>> Monday, 20 June 2011
Now in its fourth year, Nom Nom Nom is a MasterChef style competition giving the internet's finest bloggers, food photographers and food writers the chance to compete against each other in a fun "cook-off" in a professional kitchen.

On Sunday 17 July, 2011, pairs of aspiring cooks, bloggers and online foodies will gather at
Cookery School
in central London, to create an office lunch based around three basic principles:
simplicity, seasonality & sustainability
.
We want you to prepare a lunch that could be sold in
Rosalind's Kitchen
for busy office workers & shoppers. So it needs to contain:
• A cold or hot soup
• A main course (bearing in mind that the mains cannot be reheated in the office)
• 2 interesting salads, and
• A suitable treat to have after lunch
On that Sunday afternoon,
a judging panel
will decide the best lunch of the day in the
Expert Judges' Choice
. Those winners will get a selection of food & cookery related goodies donated to us by our supporters and sponsors (we'll be announcing the prizes over the next few weeks, so make sure you come back and take a look).
Two weeks after the live cook-off, we'll be opening up the judging to everyone for a
Viewers' Choice
vote. The public will be encouraged to come to this site to see all the photos, videos and other content created on the day and vote for the lunch they think was best. Once the votes are counted, the overall
Viewers' Choice
winning team will also receive a prize.
The
top two
entries from the "
Viewers' Choice
" awards
and
the "
Expert Judges' Choice
" winner will then be judged by the owner of
Rosalind's Kitchen
and the best dishes served in the cafe on Little Portland Street, W1 for a week.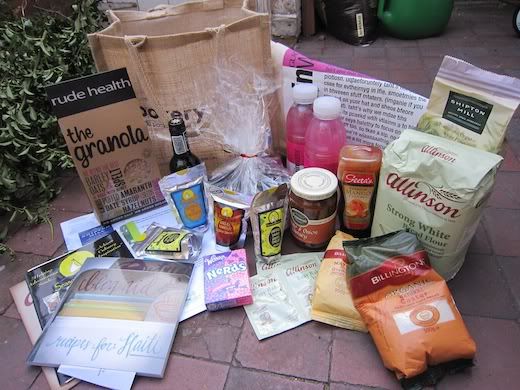 Finally,
all finalists
will receive a Cookery School shopping bag before they head off to the shops for the day and a special goody bag packed with food and drink related treats to take home after the contest (here's what was in
last year's
).
For a chance to reach the finals, visit
this page
for full entry details. There's also more information on the format of the day in our
FAQs
. Please make sure that you submit your menu for consideration by
11.59pm on Thursday June 30th 2011.
An online raffle will also give
everyone
the chance to win some fabulous prizes, with money raised going to
Action Against Hunger
.
Watch this space for more details, as the event unfolds!